Company:
Stamford
Industry:
Information Technology
Country:
Sweden
This tool has made my job easier and even more enjoyable to work with strategy!
We added transparency to our diversified business growth plan
Our business expanded by acquiring different software systems and solutions, mainly based on the same technology. As our business portfolio increased in diversification, so did the complexity of running our business.
Although we were thrilled our business was growing, we quickly realized our strategic roadmap was too complex to follow and it became increasingly difficult to build a strategy that unified all functions. We also realized we anticipated more from our leaders and management regarding tracking and goal attainment.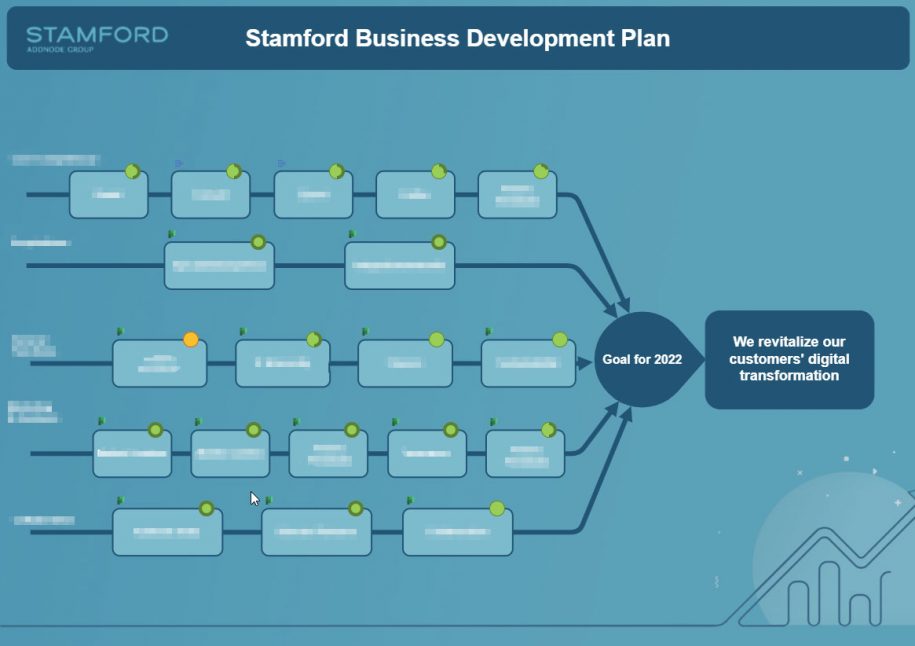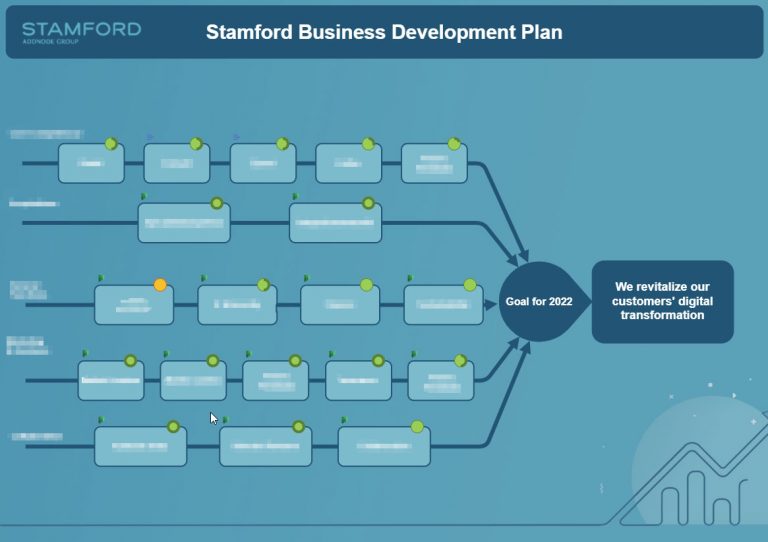 Finding the Right Tool
Keeping all our strategic objectives documented in our employees' minds was no longer viable and the current tools we had did not capture all the complexities and structure that we required. We knew we were looking for a tool out of the ordinary. Furthermore, we required a lightweight implementation and with an immediate start. We conducted our market research to find the right tool in the strategy and business planning domain and found VisPlan.
Some of the first features of VisPlan that stood out to us was the UX and built-in supportive videos. This made such a difference working with the tool and it increased the understanding among all our leaders of how to create a business plan. 
The tool is very intuitive and allows guidance when required so that all leaders of each unit can work individually and report on their progress.
Prioritization and Goal Setting
VisPlan builds its uniqueness on the structure and context of a business plan in one page. Having this visual structure of our complete business plan makes it easy to identify and prioritize initiatives. In addition, it shows the status of everything in real time!
The One Page plan also covers every critical business unit in our organization by breaking down the master plan into sub-plans; fine-combing and aligning every activity and action towards our objectives. 
This makes the process of setting goals much more transparent and inclusive for the organization. Furthermore, this transparency is positive for the accountability of leaders and indicates real progress for defined goals.
Overall Acceptance
Implementing a new administrative tool is always a challenge but the management team acceptance is constantly growing. The visual component of the tool really helps us in communicating the operational importance of each functional unit. Our diversified business has become unified, and leaders of each unit can assess how their work is critical to the success of the company. 
This is highly encouraging! On top of that, the executive management appreciates being able to see the overview of the business in one shot; reducing their time for understanding risks and allowing them to take actions proactively. VisPlan has made our strategy come to life by organizing activities and functions that attain the desired state the executives have outlined.